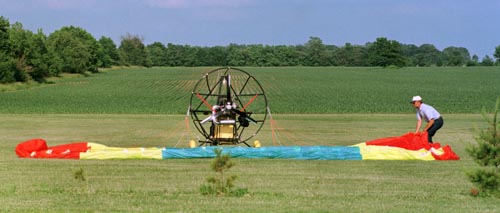 Chuting up into the Sky
The latest aerial conveyance has a built-in safety factor – an open parachute.
By Tim Evans, Staff Writer
New Winchester, Ind. - One ride in a powered parachute was all it took to hook Butch Mood. "I got introduced to them by a buddy in the spring of 1997," he explained. "I'd never even seen a powered chute, but before I knew it I was 1,500 feet in the air and enjoying every minute of it."
Two weeks later, Mood purchased his first one. "I've been doing it ever since," he said. "There's nothing else quite like it."
Today, the Hendricks County man introduces others to the unique flight experience through his business, Winchester Power Chutes.
Powered parachutes, classified as ultralight aircraft, are comprised of a large parachute attached to a three wheeled cart with a rear-mounted engine and propeller. They come in one and two seat models. Mood said powered chutes combine the attributes of parasails, hot air balloons and helicopters.
"There is a little bit of all of them in it," he said. When inflated during take-off, the parachute becomes rigid and provides lift like a traditional wing. The propeller generates the power for take-off and controls the climb and descent rate of the chute but does not change air speed, which remains constant at about 25 mph.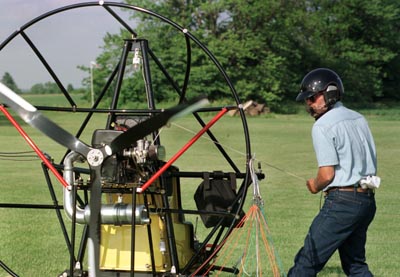 Mood said the powered chutes, which do not require a license for certification to fly, are the only ultralights that can be flown solo without any dual, in-air training.
A licensed dealer for the Illinois-based Harmening High Flyer brand of power chutes, Mood also has a Basic Flight Instructor certificate that lets him offer flight training.
He gives 20-minute introductory flights for $40, or more in-depth flight training for $150. The latter includes ground school and concludes with a 45 minute solo flight.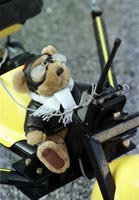 "Butch is a down-to-earth guy who just loves to fly," said Suzann Harmening, co-owner of Harmening High Flyers and a power chute pilot. "That's one reason he is so successful, His love for flying comes through. It is contagious"
Harmening said Mood, like her company, also is very safety-conscious. She explained that the Federal Aviation Administration terms power chutes "the safest thing in the air," adding there has never been an accident or fatality attributed to a structural failure.
"They're inherently safe. They don't flip, stall, or roll." Mood said. "If you loose power, the worst-case scenario is that you just come down like a parachute."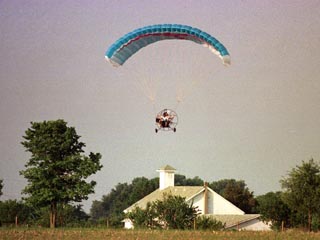 Mood said several factors contribute to the public's interest in the power chutes. Including the ease of flight and relatively low cost. They sell for about $10.000 and, with minimal care should last a lifetime, he said.
Their appeal also helped the sport to grow to more than 10,000 active pilots since the first powered chutes were sold the public in the early 1980's.
Powered chutes are flown only in winds of 10 to 15 mph or less, which makes early morning and early evening the prime flight times.
The chutes can skim just feet off the ground or soar to heights of more than a mile. Mood said the mile-high mark is a goal a lot of pilots aspire to. His personal record is 6,000 feet, but he spends the majority of his time closer to the earth where he has a better perspective of the countryside.
"Their ability to fly very low and slow is appealing to a lot of general aviation people," Mood explained. "It doesn't require the constant concentration so you can enjoy the scenery a lot more."
Harmening added: "It is so serene. If you've had a bad day at work you can go out and forget all of your problems. It just changes your view."
Mood has sold more than a dozen power chutes since he began his business in fall 1997. Most of his customers were like him – hooked after their first flight.
Contrary to what people might think, Mood said his customers haven't all been reckless, young thrill-seekers. He even sold them to a minister and senior citizens.
While mood enjoys his business and would like to expand it to include training for other dealers, there is a down side. The more time he spends selling and training, the less time he has to fly himself.
Don't mention my other business, "the owner of Mood Heating and Cooling pleads as he prepared to lift off for a recent sunset flight over Hendricks County countryside. "It just takes more time away from my flying."